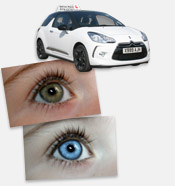 Photo Cutouts
Nothing looks worse than an image with it's background removed improperly; leaving little sections of background or noticable straight edges around the object. acuteFX Design uses patience and a keen attention to detail to create fantastically detailed cutouts to be used on your website or offline materials.
Example 1
 - 
Example 2
.
Editing a Photograph Layout
Using advanced manipulation techniques, acuteFX Design can subtly or completely change a photograph's layout. We can add people into images, and move or remove people without leaving a trace of where they once were. We're also very experienced in changing photographs' backgrounds - either making the background more aesthetically pleasing, or replacing the background all together.
Click here
to see an example of out layout editing / collage work.
Enhancing Graphics & Upscaling Resolution
There are many cases where you might need a higher-quality image than what you currently have. If you want to print your logo on business cards or leaflets for example, you'll need the logo to be at least 300DPI, which we've found is often not the case. Older images that get saved over and over again can also lose quality and develop artifacts or "fuzz". acuteFX Design can take these low quality, low resolution images and recreate them in a high 300DPI or 600DPI resolution. We can also recreate logos and graphics as vector images, which would be perfect for car vinyls or company apparel.
Creating Digital Copies of Offline Material
Much like how we improve low quality digital images, acuteFX Design can also create high-quality copies of offline graphics. Working from photographs, scans or even sketches, we can create digital copies of almost anything.
This example
shows the digital copy of a motorbike's original sticker, which was then printed and used while restoring an old motorbike.